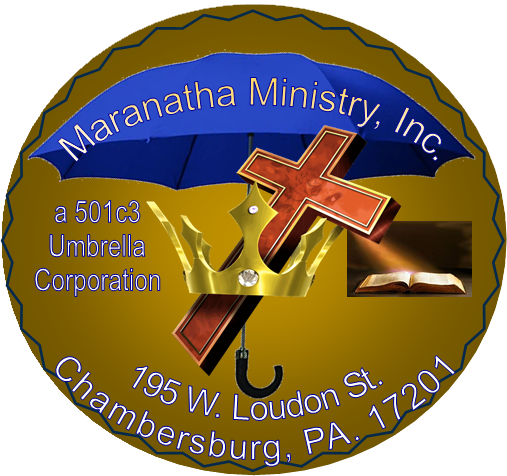 Welcome To Maranatha Ministry, Inc.
The heart of Maranatha Ministry is to share the love of Christ with those who are searching for something in their lives that is more than just the need for food, budgeting, or housing. People need healing. We give a hand up not a hand out.

Maranatha Ministry's food pantry is a non-profit organization that provides food assistance to individuals and families in need. Located in Chambersburg PA, Maranatha Ministry food pantry distributes food to those experiencing food insecurity due to poverty, job loss, illness, or other challenges. They rely on donations of non-perishable food items and financial contributions from the community to provide food to those in need. Maranatha Ministry food pantry aims to alleviate hunger and ensure that no one in the community goes without food.

Maranatha Ministry is a Christian community outreach organization dedicated to serving their local community through various initiatives. They strive to provide practical assistance and support to those in need, regardless of their background or beliefs. Their outreach efforts include food drives, clothing donations, homeless shelters, Food Pantry and counseling services. Maranatha Ministry also places a strong emphasis on spiritual guidance and provides opportunities for individuals to connect with their faith and grow in their relationship with God. Their commitment to serving others has made a positive impact in their community and has inspired many to join in their mission.

Maranatha Ministry's Chambersburg Cold Weather drop-in shelter is a vital resource for individuals experiencing homelessness in the Chambersburg area. The shelter provides a warm and safe place for individuals to sleep during the coldest months of the year, typically from December through March. In addition to a place to sleep, the shelter also provides meals, hygiene kits, and access to medical care and counseling services. The Maranatha Ministry team is made up of dedicated volunteers who work tirelessly to ensure that each guest feels welcome and cared for. Through their efforts, the Maranatha Ministry's Chambersburg Cold Weather drop-in shelter has become an important part of the community and a lifeline for those in need.

You don't need to worry about theme assets to make them optimized. Theme has optimized assets as much as possible. We also provided special Greenshift plugin, use it instead wordpress core blocks if you want to have maximum perfomance

100%
Speed grade

A
Score

100%
Speed grade

100%
Speed grade