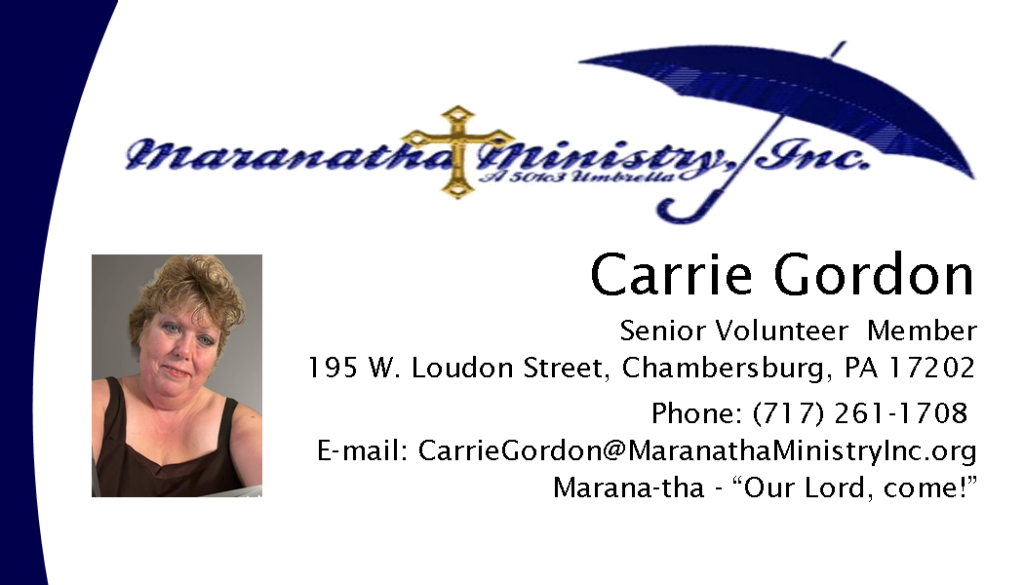 Senior Volunteer Member / Coordinator
E-mail: CarrieGordon@MaranathaMinistryInc.org 
---
Carrie brings to our team a joyful spirit of giving, and a dedication to help others within our community.
Her life is built around God first, husband, children, then the Ministry. Her organizational skills have benefited her during her previous community involvements and now within the Ministry, interacting with individual and group settings.
Her leadership skills have molded her character and integrity throughout her life experiences, her studies with faith based schools, universities, and great work ethics with local corporations have also help mold Carrie in becoming the giving Christian she is today.
Carrie goes far and beyond any task given to her, Admired most for her kindness and cheerful smile, her happy spirit and outlook on life is infectious when working in a team environment, her desire to outreach to those in need is exemplifying.
Carrie has a heart of gold filled with the spirit of Christ meant for helping people. This is one of the reasons she is here helping with some task like Rocket Totes, a backpack program with James Buchanan Elementary School, and our Community Outreach program.